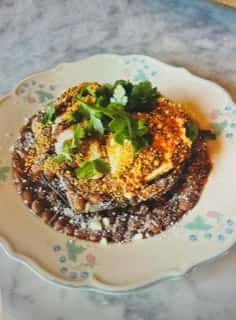 Chilaquiles
Brunch at Hermanito
If you're looking for a delightful and satisfying meal to kickstart your day, look no further. We have a delicious selection of breakfast options available from 11 am to 3 pm daily. Whether you're in the mood for something hearty, flavorful, or a combination of both, we've got you covered.
Sink your teeth into our mouthwatering Breakfast Burrito, filled with a delightful medley of ingredients that will leave you craving more. Imagine the perfect blend of scrambled eggs, Chorizoman's Chorizo, Pico, Chipotle Aioli, Tots and Queso Chihuahua, all wrapped up in a warm tortilla. It's a breakfast dream come true.
If you prefer a classic choice with a twist, our Egg Sandwich will hit the spot. Picture Chorizoman's Chorizo, Velveeta Cheese, Over Easy Eggs, Chile Miso Aioli, Crispy Potatoes and Cotija Cheese. All nestled between two slices of Potato Bread. This sandwich is the definition of comfort and satisfaction.
For those seeking a taste of bold flavors, our Steak & Egg Taco is an absolute winner. Niman Ranch Hanger Carne Asada, with 2 Eggs and Molcajete, on Rita's Homemade Flour Tortilla. This combination creates a symphony of flavors that will transport you to breakfast bliss.
And for those who crave a traditional Mexican favorite, our Chilaquiles is the way to go. Enjoy a delightful plate of Chorizoman's Chorizo, Salsa Roja, Creme, Fried Egg and fresh onions. It's a breakfast experience that will leave you coming back for more.
These are just a few of the mouthwatering options we offer at Bunch, Hermanito. We invite you to join us and explore our full menu, designed to satisfy every palate and craving. We are committed to providing you with an unforgettable breakfast experience, where flavor and quality meet. So come on in, grab a seat, and let us treat you to a breakfast you won't soon forget.
Visit us between 11 am and 3 pm daily, and let Bunch, Hermanito make your mornings extraordinary.