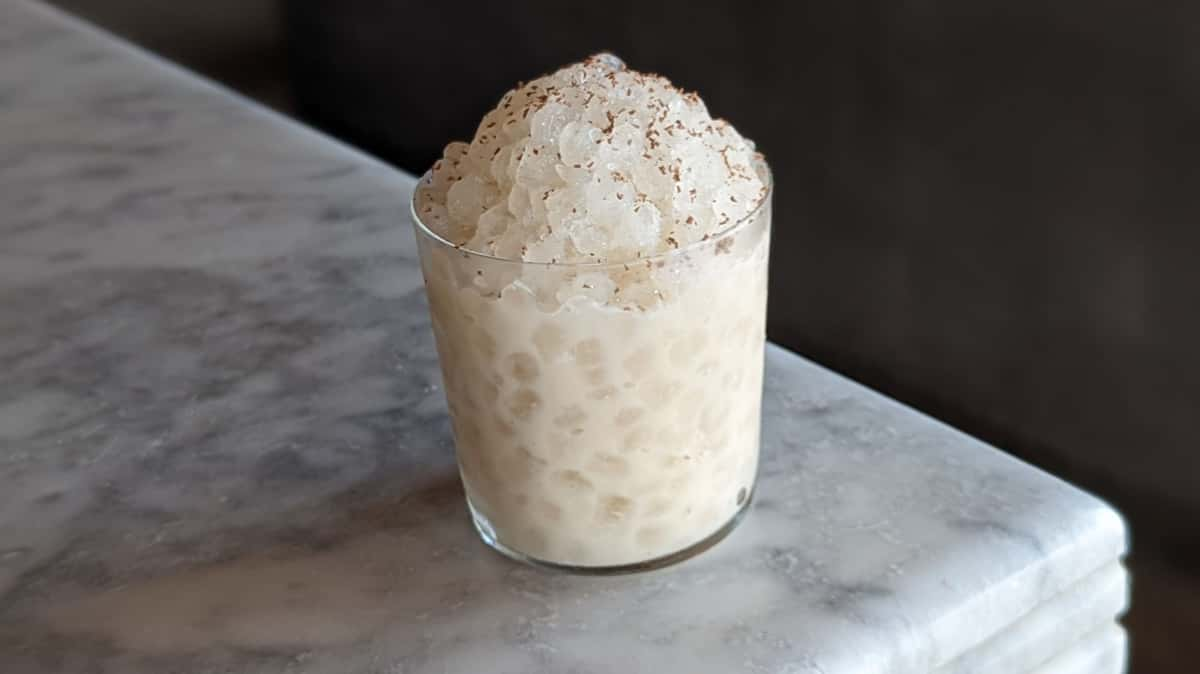 Hermanito Milk Shake
June 21st- Summer Is Finally Here!
As we embrace the official start of summer on June 21st, 2023, we invite you to join us at Hermanito for the ultimate summer drink experience - The Hermanito Milk Shake! Indulge your senses with this exquisite blend of flavors, featuring Milam & Greene Rye Whiskey, House Coconut Blend, luscious vanilla, and delectable chocolate shavings.
Why should you make the Hermanito Milk Shake your go-to summer beverage?
Pure Tropical Delight: With the Hermanito Milk Shake, we've captured the essence of summer in a glass. The combination of Milam & Greene Rye Whiskey and our House Coconut Blend delivers a tropical escape that will transport you to sun-kissed shores. The addition of vanilla and chocolate shavings elevates the flavor profile, creating a harmonious blend that is both refreshing and indulgent.
Craftsmanship at its Finest: Our skilled mixologists take pride in their craft, meticulously selecting high-quality ingredients to create a drink that exceeds expectations. The smooth Milam & Greene Rye Whiskey is expertly paired with our House Coconut Blend, carefully balanced with the sweetness of vanilla, and crowned with a touch of decadence from the chocolate shavings. Each element is thoughtfully combined to create a truly exceptional beverage.
Unforgettable Summer Experience: At Hermanito, we prioritize providing our guests with an unforgettable experience. As you savor the Hermanito Milk Shake, immerse yourself in the vibrant atmosphere of our venue. The warm and inviting ambiance, coupled with our attentive service, ensures that your visit will be nothing short of extraordinary.
Exquisite Attention to Detail: We believe that the secret to a remarkable milkshake lies in the details. From the precise measurements of the ingredients to the careful garnishing, every aspect of the Hermanito Milk Shake is crafted with care to ensure a consistently delightful taste that will leave you craving more.
Create Lasting Memories: Gather your friends, colleagues, or loved ones and make June 21st, 2023, a memorable occasion at Hermanito. Celebrate the start of summer together while relishing in the company of great company and indulging in the irresistible Hermanito Milk Shake. It's the perfect way to kick-start a season filled with joy, relaxation, and shared moments.
Don't miss out on this exceptional summer beverage. Join us at Hermanito on June 21st, 2023, and experience the blissful combination of Milam & Greene Rye Whiskey, House Coconut Blend, vanilla, and chocolate shavings in the Hermanito Milk Shake. For more information, including our location and additional offerings, please visit our website at https://www.barhermanito.com.
Let the flavors of summer take you on an unforgettable journey at Hermanito. We eagerly await your visit!